Our projects
1 Our first project was raising funds for the construction of Jitpurphedi Women's Agricultural Co-operative business centre
We are delighted to say we have now completed the construction of the building and they are open for business. The some 800 members of the cooperative will no longer meet outside on the dusty streets or share their office with fertilizer and seeds.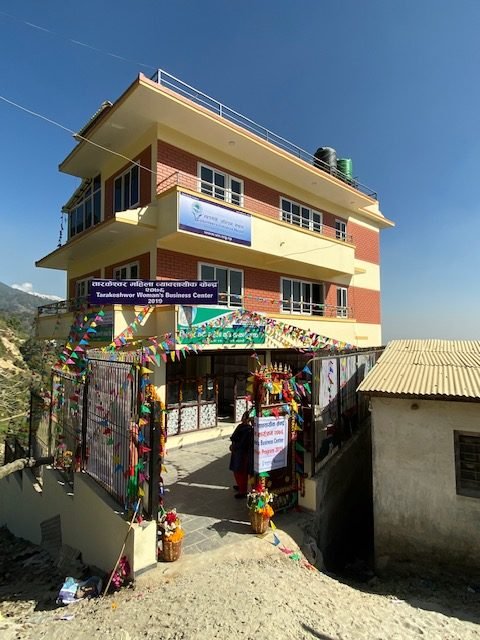 2 DONATE FOR COMMUNITY LEARNING CENTER (CLC), OKHALDHUNGA
VIN has been working in Taluwa, Thulachhap and Bhadaure of Okhaldhunga District from 2012. These remote rural communities do not have basic physical infrastructures like good schools, health centres, toilets, community learning centres. VIN in the past 4 years have constructed toilets for over 1500 families, constructed Children's centres. After the earthquake 25th April 2015, constructed 50 transitional homes.
The community does not have any learning resource centres. So VIN has started to constructed Community Learning Centre (C.L.C). To construct this well equipped building will cost $265,807 USD. This centre will have a conference hall, training rooms, library (digital and hard copies), computer learning room office and residential rooms. The CLC will benefit at least 15000 people of Taluwa, Thulachhap and Bhadaure of Okhaldhunga.
Any amount you will donate directly go to fund this project. Anyone (organisation, company, individual) who donates over $500 will be mentioned on the wall of the building and the opening publicity. Any single donation will be mentioned at our newsletters and reports.

3 Promote volunteering to Nepal with Volunteers Initiative Nepal
VIN operate a place based approach to support. They enter a very deprived community for 5 years and support them through construction of schools, teaching children and teachers, women's empowerment, health classes, setting up agricultural cooperatives etc. Volunteers live with the families so they benefit financially and VIN can get the work done.
Find out more about volunteering  – Click Here
 4 Partner with organisations to provide skilled volunteers
Many of the individuals who volunteer in Nepal are on gap years and very often lack the more specific skills the communities need. For example, Foot and Mouth is endemic in Nepal and the women in Jitpurphedi have requested help with animal husbandry. We would like to set up programmes with organisations in the UK where students could both help and gain knowledge of other agricultural practices.
Micro credit is an essential element in the empowerment of these isolated and rural communities, book keeping is basic and old fashioned, help is needed for experts in micro finance to help set up appropriate accounting systems.
Interested in supporting transformation in Nepal and providing skill transfer? – contact us